Urban design for the renewal of the Saint Alban Leysse Town center
Chambery (FRANCE)
Since 2011, Epode works with le local authority of Saint Alban en Leysse in the redeveloping scheme of their town center. Reinventing the main square of the city center to provide new accommodations, better quality of life, scenary and public spaces has been our scope and objectives. From design layout throughout building construction Epode has provided all the engineering necessary to recreate a lively center.
Après avoir défini les grands principes de cette régénération urbaine pour un centre plus dense, plus apaisé et plus mixte (logements et commerces), les urbanistes et paysagistes d'Epode ont participé aux choix des équipes Promoteurs-architectes depuis 2015, aboutissant en 2019 à la création du premier ilot urbain.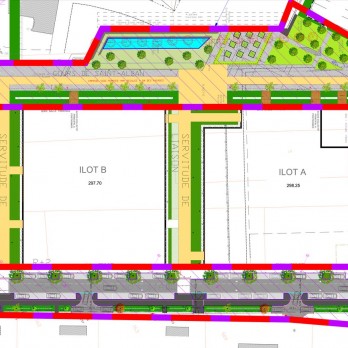 Sous la forme d'un permis d'aménager, les espaces publics sont livrés progressivement par nos équipes de mise en œuvre et participe par des aménagements adaptés (mise en sens unique de la voirie pour un meilleur partage des usages, la création du « Cours de St-Alban » en figure centrale de l'espace public de la commune) a donner plus de place à la biodiversité ainsi qu'à la valorisation de l'environnement, avec une gestion intégrée des eaux de ruissellement et une trame paysagère affirmée.